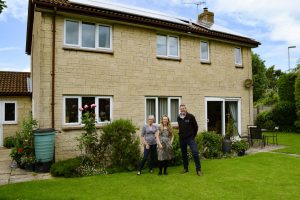 The Frome Solar Streets campaign, launched in March 2019, hit the ground running following the announcement of a climate emergency in the area. To date, Frome has seen 70 houses sign up to the scheme with new installations predicted to save 1,721 tonnes of carbon dioxide over the next 25 years.
Frome Town Council partnered with IDDEA to offer a hugely discounted installation available for Frome residents. A 4 kw solar pv system to generate clean electricity usually costs around £6,000, but this has been reduced to £3,750, including a £50 donation to a local community solar project via Frome Renewable Energy Co-op. The donation currently stands at approximately £2,000 and is set to grow.
Many residents who have taken part had considered solar but were worried the installation would be too expensive. "I had wondered about having solar panels previously, but the expense had put me off. For the very reasonable prices with IDDEA, I felt that I could make a contribution towards helping the environment and a future for my grandchildren. Now I am using my own electricity and feeding into the grid, for the price of a posh holiday!" Says Val Henderson, who is now reaping the benefits of solar energy.
With multiple installations complete and producing energy, the benefits are already becoming apparent. Fay Goodridge said "We are absolutely delighted with the solar panels installed by the IDDEA team as part of the scheme initiated by Frome Town Council. As a property which was still running totally on electricity for all our domestic power the benefits have been immediate even on dull days."
Frome Town Councillor Lizzie Boyle said "It's fantastic that so many people are taking action to reduce their energy bills and produce clean energy. If you've been thinking about having solar for a while it's worth booking a free survey to find out how you can benefit from this significantly discounted offer. There are now finance options available via Wessex Resolutions Home Improvement Loans so payments can be spread over time too. We would also be keen to hear from landlords as installing solar not only benefits tenants but improves your property's energy rating."
The scheme will continue to run throughout the summer. For more information or to arrange a free no-obligation survey contact: info@iddea.co.uk or visit: www.frometowncouncil.gov.uk/solar-streets
Published 25/07/2019