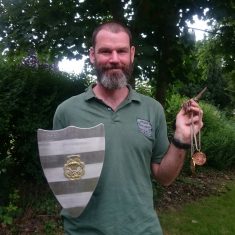 Frome Town Council's very own Ranger, Michael Gerrard picked up two awards at the Eastern Counties Scythe Competition
Scythe wielding competitors at Wimpole Manor, Cambridgeshire went head to head on overgrown plots of grass over the weekend. Ranger Michael came first in the 5×5 metre race (an impressive 1 minute and 28 seconds) and second in the quarter-acre race  (over ten thousand square feet- 1 hour and 51 minutes).  The scythe was invented in around 500 BC and is now seeing a resurgence.
Though the image may be unnerving to some – it has a dark history when it comes to symbolism – events like this are changing its reputation for the better; an eco-friendly and sustainable hobby that may even help keep your lawn in order, what's not to like? The trusty tools have been all but replaced with conventional mowers over the years but they are more practical than you might think. Michael actually uses his on uneven ground around Frome when a mower just won't cut it, so don't be alarmed if you see him working the land medieval style, he's a professional.