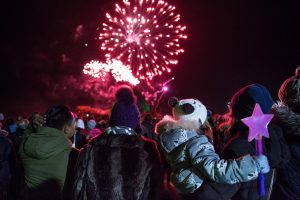 On Saturday 3 November Frome Rotary Clubs hosted the town's first public firework display for many years.
Thousands of local residents wrapped up warm and walked to the Old Showfield following the illuminated coloured lights which could be seen from all over Frome.
Alongside the array of refreshment stands and Quinton Howard-Evans on the microphone the crowds were then treated to a special 20 minute firework display accompanied by music.
The Mayor Richard Ackroyd, "The people of Frome voted for Fireworks in the People's Budget and it was great to see so many families and friends enjoy this night together. Congratulations to Edie Taylor and Tara Whitelaw who designed the poster for the event helping to make it such a success."
Andrew Lee, President of Frome Town Rotary, chaired the committee that put together the event. He said "We thought it was an event that the people of Frome wanted. Our success in the public vote encouraged this belief but we were thrilled with the numbers that came on the night and the wonderful feedback we have had." 
Instead of paying to see the Fireworks members of the public gave generously to local charitable causes and organisations raising over £5,000 to support The Pod, 1st and 7th Frome Scouts, Fair Frome and The Big Christmas Get Together.
Local resident Darren Baulf said, "We're over the moon to have Fireworks in Frome. I've lived here 47 years and never had fireworks like this. The kids are really excited and we really like coming out together as a family."
The Town Council will be discussing the possibility of supporting this event next year at the next Council Meeting on 5th December at Frome Town Hall.
To take a look at photos of the night thanks to photographer Chris Bailey go to https://www.discoverfrome.co.uk/gallery/
As well as the Town Council, the Rotary also received support for this event from, Cooper and Tanner, Sydenhams, Western Skip Hire, Dave Lucey, Renteq Traffic Management and Frome Auto Electrical.