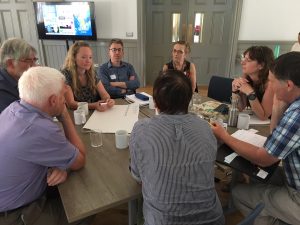 People from 20 towns and villages came together last week to explore how to improve energy security and air quality through reducing energy use and increasing renewable energy.
Anna Francis, Resilience Manager at Frome Town Council who organised the event said 'Although many of us are enjoying the current heat wave, the lack of rain, fires around Europe and flooding in places like Japan highlight the fact that our weather system is changing. We need to shift away from fossil fuels such as oil, coal and gas as soon as possible to reduce these risks and increase energy security. The Zero Carbon Towns event was an opportunity to explore what we can do together to achieve this.'
Paul Allen, author of 'Zero Carbon Britain' explained that the technologies already exist to enable this switch to happen adding 'The South West has one of the best solar resources in the UK and the best wind resource in Western Europe.'
As part of the programme Frome Town Council also launched a 'ready reckoner', developed in partnership with Climate Works which enables any community to estimate how much energy their area is currently using and what they need to do to switch away from fossil fuels.
A film of the event, presentations and the 'ready reckoner' tool are all available here.