Following on from the recent footpath improvements at the Old Showfield, work is set to start on similar improvements at The Dippy on Monday 26 September.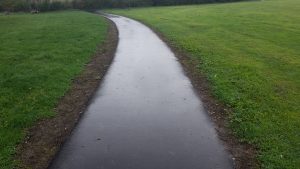 Weather permitting, the work should take 5 working days – with sections of path necessarily closed later in the week as the base course and wearing course are laid.
The new path at The Dippy will be based on shared-use standards & recommendations – with a smooth, even and firm finish. Path improvements were identified in the Council's approved Management & Improvement Plan for the site – so this is a welcome next step for the site.
You can find out more about the Dippy here: https://www.frometowncouncil.gov.uk/parks-and-open-spaces/the-dippy/
And if you have any queries about the works please feel free to contact us or call in to see us at Palmer Street.
Management plan of The Dippy: mip-the-dippy