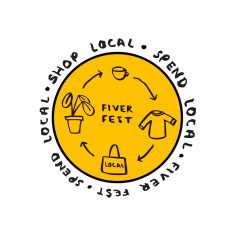 Following last year's Fiver Fest, the successful event returns this October, celebrating the wonderful, independent shops and retailers in Frome. Fiver Fest encourages people to shop locally by offering independent retailers the opportunity to show what an amazing range of items people can buy for £5 in their local shops and will take place on Thursday 15th, Friday 16th and Saturday 17th October.
It is a nationwide event as part of the Totally Locally initiative and is all about the independent retailers and those who contribute directly into the local economy of the town, it doesn't include any chains or big retailers. It's aim is to inspire us to celebrate local businesses, often run by families or individuals, making a real contribution to our unique town. Plus spending your hard-earned money in the place you live helps to boost the local economy and increase employment.
Frome Town Council have been busy working with businesses in the town and many local retailers and establishments have already signed up. Whether it's a specially selected book from Hunting Raven, a Somerset Rarebit from Palmer Street Bottle, all washed down with a bag of Loud Mouth coffee from The Riverhouse – there are plenty of offers to suit all tastes!
Cllr Nick Dove commented: "Last year there was a real buzz around town on the Saturday it took place; I spoke to many of the retailers and outlets, and many reported an increase in footfall, not only that but it allowed them to showcase the rest of their wares, not just what was on offer on the day.   We are so lucky to have so many wonderful independents in Frome, and after what has been a really tough year, it's our chance to show them our support over the Fiver Fest days."
More and more businesses are being added each day and leading up to the event you'll be able to discover what's on offer by searching under the #FromeFiverFest on Instagram. To find out more about the offers and what to expect go to www.discoverfrome.co.uk/fiver-fest-2020/
Published 28th September 2020