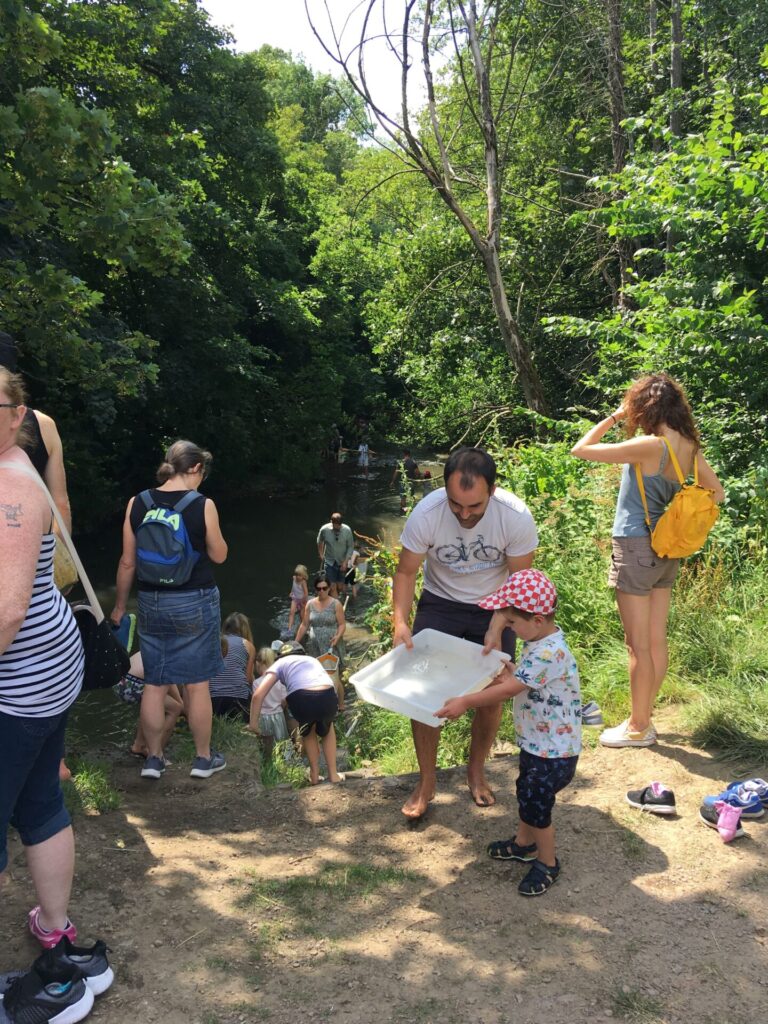 This year's Great Big Green Week starts on Saturday June 10th and hosts a heap of activities fit for all ages. These activities not only show off all of Frome's wonderful parks and open spaces but allow us to explore how we can all be a bit greener.
Cllr Fiona Barrows said: "I really love Great Big Green Week and look forward to it every year as it is such an uplifting week! The climate and ecological crisis we are facing is a huge challenge, and it's very easy to get overwhelmed and dispirited. Great Big Green Week celebrates the action and incredible initiatives we are taking as a town and community to tackle the crises. So many different community groups and organizations are putting on events, and it really shows just how much we are doing, and how many ways there are for all of us to get involved and play our part."
The week highlights some of our green spaces, why not pop along to Frome's newest community garden and join the Garden Gather at Broadway Community Gardens (Sunday 18th June) or take part in the Packsaddle Nature Watch (Sunday 11th) to see how many birds, insects and flowers can be identified. Or the Tiny Forest Citizen Science Workshop (Monday 12th) will be held at Egford Park where FTC's Tree Officer and Earthwatch will collect data on the Tiny Forest and see how the trees have grown over the past year.
The Seed Library has distributed over 1,300 free packets of seeds since they started last July and have created a monthly under-fives gardening club called 'Sprouts'. They will be at the Library on Saturday 10th; why not go along to hear more about the project, how you can get involved, make a plastic-free pot with Frome Families for the Future (FFftF), and see a new planter at the entrance of the library.
FFftF will also be hosting a Planet-Friendly Picnic: Fun, Sun, and Low Impact! on Sunday 11th at Victoria Park. The event aims to promote sustainable and eco-friendly practices while enjoying a fun picnic with friends and family. With the focus on sustainability, the event promises to be a fun-filled afternoon in the sun, where picnic goers can enjoy outdoor activities, tasters, tips on how to gobble up a more sustainable lunch and browse stalls from local eco-friendly businesses.
Local children's book illustrator Jenna Herman will be hosting a 'colour-hunt walk' in Victoria Park on Wednesday 14th – looking for all the colours of the rainbow and beautiful textures in the nature around us. Families are then invited to create some lovely art together. Each child will go home with their own mini masterpiece! Following this in the park, FTC's Resilience Officer Jo Morris will host a Community Wildlife Mapping session to help map Frome's biodiversity as part of Somerset Wildlife Trust's Big Count 2023. Jo will be running the demo session on how to use the iNaturalist phone app so you can count wildlife all over Frome, in your own time.
If being near water is more your thing the Wild Bunch will also be hosting pond dipping at Welshmill Pond on Thursday 15th where you can try out some pond-dipping methods, learn about amphibians and explore the variety of insects and their larva in and around the pond.
Or the River Festival hosted by Friends of the River Frome will be at Rodden Meadow on Saturday 17th. They will be running a practical river dipping session along with Wessex Water, the Environment Agency, Heal Rewilding, Frome Anglers and many more. At midday there will be a series of short talks by the various organisations and the chance to ask questions on water quality, pollution, what lurks in the water and anything else you can think to ask about our wonderful river.
Children are very welcome and expect them to get a little wet and muddy as they will be going in the water!! Bring wellies or water shoes and they will have some waders available for both children and adults to join in the watery fun.
For the full programme, more information and how to book tickets, please visit the Great Big Green Week page.