Monday evening saw an extraordinary council meeting as Frome Town Council agreed to enter into an exclusivity agreement with Mendip District Council around the former Western Warehouse at Saxonvale.  Frome Town Council agreed to proceed with a feasibility study to see if the site at Saxonvale can be converted into a regionally significant Arts and Heritage centre for Frome.  This followed a period of negotiation with Mendip District Council that built on Frome Town Council's interest in delivering an exciting new centre in the heart of Frome.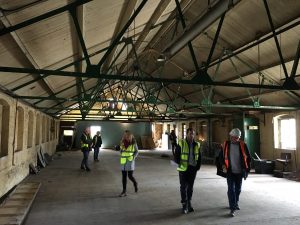 The idea stemmed from visionary work involving a range of local organisations including the Black Swan Arts and the Museum and has led to Mendip District Council offering Frome Town Council the exclusivity agreement.  It represents an opportunity to expand the town's existing Arts and Heritage facilities and provide a new destination in the centre of the proposed Saxonvale development.
Deputy Mayor of Frome Anita Collier said: "We are delighted that this project has the support of Mendip District Council.  There is a lot of hard work yet to be done before we are in a position to proceed with a purchase of the Western Warehouse and we will continue to need the support of both Mendip District Council and Acorn as the developer of Saxonvale.
However, the exclusivity agreement that the District Council has offered is an excellent start.  We look forward to working with our partners to make this potentially very exciting project a reality.   We will continue to engage all interested parties and the wider community to develop our plans."
Cllr Ros Wyke, Leader of Mendip District Council, said: "Frome Town Council's decision to take up our offer of an exclusivity agreement is a welcome one.   The acceptance of our offer will enable the town council to work-up a business case to develop an arts and cultural venue in the historic Western Warehouse at Saxonvale, free from competition.
"Transforming Saxonvale is a generational opportunity to deliver an exceptional development on the banks of the River Frome.  It delivers much-needed, well designed housing and commercial space. And, importantly, it will create a high quality hub that brings communities together, boosts local businesses, attracts visitors to the area and injects a real sense of civic pride to the town."
In the course of completing the feasibility study work Frome Town Council are interested to hear from anyone in the community who would like to become involved in the project.   Please contact pwheelhouse@frometowncouncil.gov.ukPublished 30/10/19