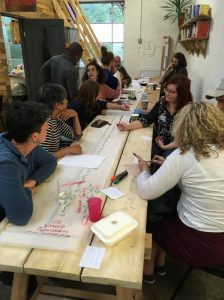 A practical 10 week course in community entrepreneurship and turning ideas into reality.
Students learn by setting up a community enterprise that tackles a local need on behalf of a local not-for-profit. There is a different start-up challenge for each Edventure course. Challenges always involves starting up or developing a community enterprise. Our aim is to grow the community and social enterprise sector in Frome to tackle local problems.
Students will get the opportunity to go through the stages of setting up a social business – from market research to business planning, from generating ideas to project planning, branding and launching the idea. All whilst learning to work in a team and stepping into leadership.
Anyone aged between 18-35 can apply. You don't need any formal qualifications or experience. We are looking for a team of people with diverse backgrounds and skills who are motivated and are up for a challenge. Apply for the course because you want to learn from it, learn from each other and make Frome a better place to be.
Our courses run for approximately 10 weeks from Mondays -Thursdays, 2 September – 7 November 2019 from 9.15 -2.45 pm. We will also go away on a 3 day residential. In addition, students need to be available for an additional 4 hours of work/study time a week and to attend the occasional evening or weekend event.
The theme for this course will be announced shortly. Like Edventure at facebook.com/edventurefrome for updates.