Here you will find out all you need to know for the upcoming UK Parliamentary Election on 12 December 2019.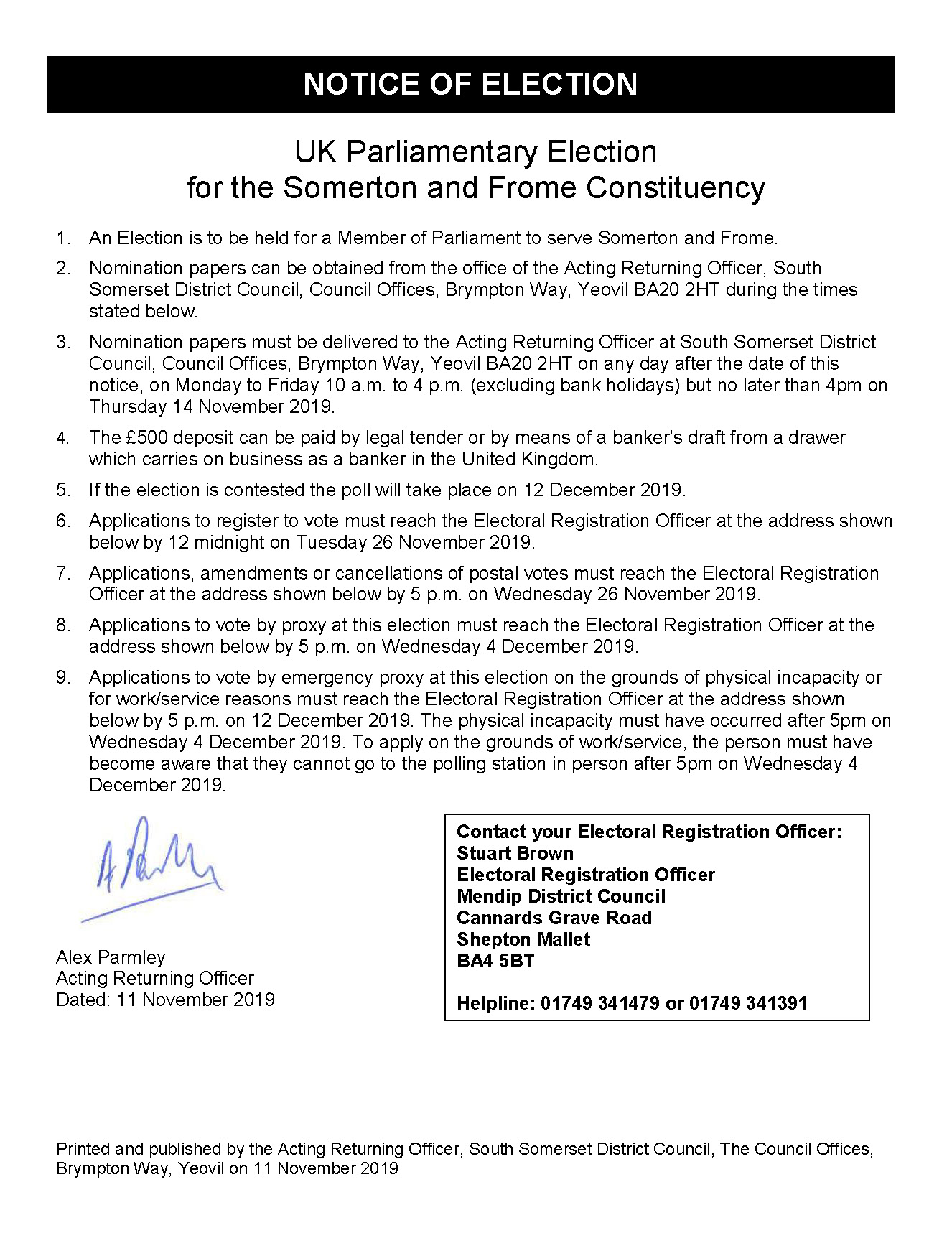 Key dates for the UK Parliamentary General Election on December, 12th 2019:
Register to vote deadline – 12 midnight on Tuesday, 26th November 2019
Postal deadline – 5pm on Tuesday, 26th November 2019
Proxy deadline – 5pm on Wednesday, 4 December 2019
To find out if you are registered to vote or to register please contact Mendip District Council. Full information can be found on their website 
If you don't think you will be able to attend a polling station on 12 December you can vote via a postal vote. Find out more here Please be aware that if you choose a postal vote you will then not be eligible to vote at a polling station.
The third way to make your vote is by proxy. Find out more here 
Your polling station will be printed on your polling card. Please be aware that due to the short notice of this election, and the proximity to Christmas, some of the normal venues used for polling may not be available, and alternatives will have been found. Please check your poll card carefully, as the polling station may have changed.
However if you are still unsure please contact Mendip District Council:
Electoral Registration Officer
Electoral Services Office
Cannards Grave Road
Shepton Mallet
BA4 5BT
01749 341236 / 341590
elections@mendip.gov.uk
The Parliamentary candidates for Somerton and Frome standing in the 12 December 2019 election are:
Green Party – Andrea Dexter
Labour Party – Sean Dromgoole
Liberal Democrat Party – Adam Boyden
Conservative Party – David Warburton
Hustings
On 24th November we held a hustings where all the candidates for the Somerton & Frome parliamentary took part. The Football Club was at capacity with over 200 people in attendance asking a range of questions to the candidates.
We received more questions than we had time for at the event so have compiled them all together. They have been sent onto the candidates. If we receive any replies we will of course post them on this page. Download the full list of questions (196KB)Last updated: 3 December 2019