After a winter in lockdown, the Discover Frome Information Point is emerging into the spring sunshine ready to welcome everyone. Based at the Black Swan, Discover Frome is now open Wednesday – Saturday, 11am-2pm.

Discover Frome was set up to provide a welcoming point of contact and is manned by friendly and knowledgeable local volunteers. The team will be following the latest guidelines and social distancing to ensure they and visitors are kept safe at all times.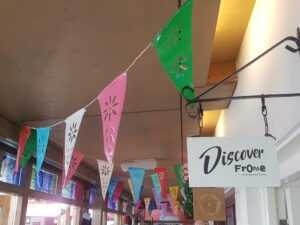 Cllr Maxine Crawley said: "Frome Town Council is delighted to be opening up the Information Point again, it's such a great source of local information for residents and visitors alike. So, if you need any advice from maps and leaflets about local events to bus timetables or local B&Bs, our wonderful volunteers at Discover Frome will be able to help."
A popular item at the information point is the walking maps. These have all been restocked and now include 2 new walks:
The first, Industrial Frome, is an easy 4-mile walk around town with plenty of stops, exploring Frome's Industrial past. The walk was prepared by Poetry in Motion and Home in Frome and includes extracts from the Working Memories book.
For those wanting more than an afternoon stroll, The Saxon Kings Way is a 13-mile hike to Bath linking the Mendip Way East with the Cotswold Way. The walk connects two Saxon kings – King Eadred, King of England, who died in Frome in 955 AD and his nephew King Edgar, King of England, crowned in Bath Abbey in 973 AD. The walk takes in some wonderful scenery and includes a stretch of the Two Tunnels.
To keep up to date with the latest news from Discover Frome, head over to the Discover Frome website or Facebook page where you will find regular updates celebrating our local stories, events, and businesses in our vibrant town.