The August Frome Business Breakfast hosted by Frome Town Council & Frome Chamber of Commerce was sold out with 37 local business owners joining together to share an excellent cooked breakfast at the Archangel, whilst listening to an inspiring presentation from business consultant Jean Boulton and presentations specialist Carmel Reid.
Attendees were encouraged to look at ways to envisage the future of their own enterprises by freeing up the brain to think laterally. Whilst this might sound somewhat challenging for a 7am meeting, the presentation from Jean Boulton was lively and engaging, with group exercises resulting in some thought-provoking ideas.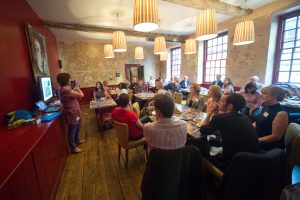 Business Consultant and Town Councillor Jean Boulton said "These monthly business breakfast events have become a real success.  Gathering together so many amazing local enterprises is important for the town; the sessions are interesting and empowering. Apart from the main presentation topic, we also provide time for networking and general discussions making the early start worthwhile. In the August session we stretched people's imagination a little – almost challenging their perception of their own organisation and ambitions using visual images. One attendee said, "The room was buzzing with energy and my only complaint we had was that the session didn't last long enough!'
The Frome Business Breakfast series provides invaluable help identifying what local employers need, how they can support each other and give back to the community.   They are open to businesses and community enterprises alike.
If you would like to join the growing numbers attending these events the next Breakfast is on Tuesday September 6th at 7am at The Assembly Rooms on Christchurch Street West where Cyber Security will be the topic. Booking a place in advance is advised. The cost including breakfast is £10 and booking details will be available soon.  Until then you can reserve your space by emailing Jane Llewellyn at llewellynj@frometowncouncil.gov.uk
Photo: Cllr Jean Boulton delivering the presentation at the business breakfast in August.