Frome Town Council is delighted to announce that it has been voted 'Council of the Week' by the National Association of Local Councils. They state that 'Frome Town Council is a leading example of what it takes to be a green council and NALC is delighted to see the council achieve this through cross-sector working – towards a common cause and to best support its communities.'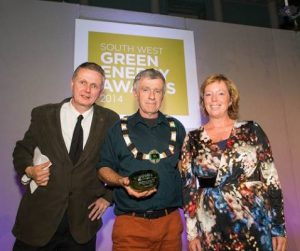 Frome Town Council has just been recognised as the 'Most Proactive Public Body' in the whole of the South West, making it an obvious candidate for our 'Council of the Week' slot.
The council received this accolade at a region-wide Green Energy Awards ceremony held last week that was hosted by the SW's leading renewable energy experts – Regen SW. Frome was pitted against Plymouth City Council, Devon County Council and other local authorities from across the region and came out on top.
Sporting the world's first solar powered mayoral chain, Cllr Peter Macfadyen, the Independent Mayor of Frome, accepted the award and explained: "This award is all about the council and the community working as one in a common cause. We're creating green jobs, green energy production and green transport opportunities. We're reducing town wide energy consumption, energy costs and, perhaps most importantly, reducing overall carbon use. It's kicking in at last!"
Frome Town Council's Energy and Recycling Officer, Anna Francis, who is the only person in the country doing this type of work at town council level, added: "Frome is a real hub for environmental activity. In the next six months we will be working with local organisations to launch a solar powered electric/hybrid car club. We will be installing solar panels on a range of community buildings, including the Frome Medical Practice and Frome Town Football Club, through a ground breaking partnership with Frome Renewable Energy Co-op (FRECo) which will generate 200kw, saving 2,248 tonnes of CO2 over their lifetime and generating £268,000 for a community fund.
We are also working with schools to empower students and staff to cut costs and carbon and have a team of trained energy volunteers who are helping fuel poor households to reduce their energy bills."
Peter Macfadyen concluded: "It's not just the council and the voluntary sector, we are working with the private companies to produce biogas and woodchip derived energy and a world leading large scale plastic recycling firm – Protomax."