A varied agenda meant for an interesting meeting last night – so thank you to everyone who came along.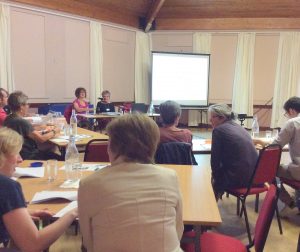 Highlights included Councillors approving the implementation of Participatory Budgeting. Toby Eliot explained how PB would give local people the opportunity  to help make decisions that impact their town.  Toby highlighted three approaches to PB which were well received and we're going to be working on this in the coming months.
Councillors brought forward a revised ethical decision process.
Communications Administrator Rebecca Krzyzosiak gave an update about the council's current communications. The council's presence online is good and growing; and the meeting heard how well the information point was used by both residents and visitors.  Councillors discussed its communications, with the main focus on reaching those who were not online.
Completing the evening was an update by Gary Collinson – about his work for the Somerset Activity and Sports Partnership. He explained his role was to increase the numbers of people getting involved in sport and healthy interests. Many activities were planned, from rounders' games, fishing, cricket, bowls, buggy aerobics to park runs and over 60's dance classes.
The agenda and reports for last night's meeting are here and the draft minutes will be posted online over the coming week. See our news here for further updates about what we're working on.