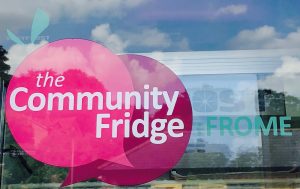 Frome's Community Fridge is part of a UK-wide Community Fridge Network that has been chosen by the National Lottery Awards as one of the top Lottery-funded projects in the past year.
The Awards are the annual search to find the UK's favourite projects funded by the National Lottery and the community fridge organisers are calling on local residents to give the Community Fridge Network their vote.  The winning project will receive £5,000 and will appear on a BBC One awards show.
The Community Fridge Network is run by the environmental charity Hubbub with the aim of reducing the amount of fresh food that ends up in the bin.  Food waste remains a huge issue in the UK, with £13 billion of edible food thrown away from our homes every year and a further £3 billion of food wasted by the hospitality and food service sector.
Frome's Community Fridge can be found in the colourful Loop de Loop building near Frome Library and is stocked with edible surplus food from local businesses by a team of volunteers.  Frome's fridge was the first in the UK, is redistributing over 5000 items a month and for the past year had funding from the national fridge network.
Richard and Nikki, Frome's new co-ordinators and long-term fridge volunteers said 'the fridge is an amazing resource for Frome, helping the town to cut waste and increase access to fresh produce. None of this would be possible without the support of the fantastic volunteers. We would love to have more people get involved so we can share even more surplus. Do drop us a line if you can help with this.'
Trewin Restorick, CEO of Hubbub said: "Community fridges play a hugely important role in bring communities together to reduce food waste.  We are thrilled that the judges of the National Lottery Awards have recognised how valuable they are.  We'd love to get the support of Frome residents to give us a chance of winning the top prize so we can support even more communities."
Votes for the awards can be cast once via each of the three ways below:
Telephone please call 0844 836 9684 – Telephone voting calls cost 5p max. A connection charge may be applied by some networks. Please check with your provider.​
Twitter just tweet #NLACFNetwork
Voting is closes on the 27th July at midnight. To get involved with the Frome fridge email: fridge@edventurefrome.org or call Frome Town Council on 01373 465757