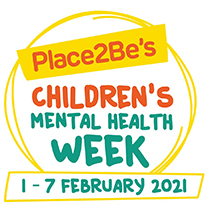 Children's' Mental Health Week runs for 1st – 7th February and aims to shine a spotlight on the importance of children and young people's mental health. Now in its seventh year, this year's theme is 'express yourself'.
Place2Be is the children's mental health charity that is behind the campaign and says: "Expressingyourself is about finding ways to share feelings, thoughts, or ideas, through creativity. This could be through art, music, writing and poetry, dance and drama, photography and film, and doing activities that make you feel good.
It's important to remember that being able to expressyourself is not about being the best at something or putting on a performance for others. It is about finding a way to show who you are, and how you see the world, that can help you feel good about yourself.
For Children's Mental Health Week 2021 we will be encouraging children (and adults) to explore the different ways we can expressourselves, and the creative ways that we can share our feelings, our thoughts and our ideas."
Deputy Mayor, Andy Wrintmore is fully behind the campaign: "Keeping children and young people active and happy is important for their future, many have forgone so much in the past year whether through school or play so keeping them active and healthy, both mentally and physically is important. Having this campaign this week and getting our younger residents in Frome to express themselves is a great idea."
The charity's website hosts lots of free resources for the week, including for home-schooling, online lessons, or independent learning.
To support and promote the importance of mental wellbeing the BBC have created a collection of resources for use with both primary and secondary students.
More locally, Young Somerset have teamed up with Somerset County Council to produce an activity booklet and have also come up with seven ways to express yourself throughout the week – from dressing to express, to creating a playlist or a photo montage that reflects the mood. These activities are a great way for teachers and parents to incorporate awareness around self-expression and can be found on Young Somerset's website.
Frome Medical Practice is launching a series of sessions starting on 4th February that will cover managing stress and worry and provide practical tips for young people. It's open to anyone in year 9 or older, further details can be found on their website.
Kooth also launches its "Don't Do It Alone" campaign this week, it's designed to encourage open conversations around mental health, so children and young people know they are not alone with their struggles. Their website is a safe, free and anonymous online mental health platform for 11–18-year-olds supported by the Somerset Clinical Commissioning Group.