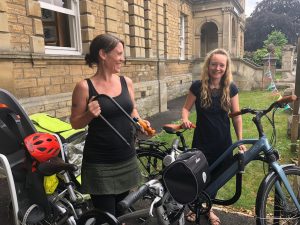 Frome Town Council is encouraging local businesses and organisations to take part in the national cycle to work day on Wednesday 15th August.
Emma Parker, Community Officer at Frome Town Council said 'Cycling to work is a great way to get some exercise as part of your routine and to boost energy and concentration. After last year's cycle to work day 67% of employees reported being more productive after cycling to work.'
Frome's Mayor Richard Ackroyd added 'If you commute you could park and cycle part way. Frome has two electric bikes for hire if you fancy some assistance up the hills! There are also bike racks available for hire from SHARE on the bridge. Frome's air quality is almost in breach of European safe limits in some areas. Shifting from the car to more active travel could help to significantly cut pollution.'
If you decide to ditch the car and get involved, please share your photos with Frome Town Council as part of their Active Summer campaign either on social media with the #ActiveSummer or by emailing them to info@frometowncouncil.gov.uk
The Cycle to Work campaign is being organised by the Cycle Scheme which enables employees to get a bike tax-free, saving 25-39% on its high street value while spreading the cost. The scheme is free to join for both employers and employees, and easy to administer online.
For more information and to download a free promo pack visit: www.cycletoworkday.org