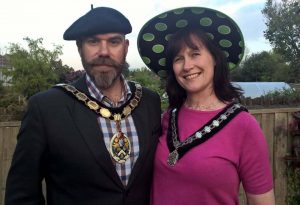 Frome Mayor, Toby Eliot, loves a good hat.  And now, as his year as Mayor drawers to a close Toby has decided to celebrate the closing of his mayoral year with the a Charity Bash that celebrates local bands, food donated by local businesses and of course, hats! The bash will be on the 19th May at the Town Hall and, although not essential, the Mayor is inviting the town to come wearing a hat.
Each year the Frome Mayor chooses a community group to support and this year's Mayor Toby Eliot has chosen to support Active and in Touch.
During the evening there will be live entertainment at the new Town Hall to celebrate the end of Toby's time as Mayor. Local performers will come together and feature comedy from Tim O'Conner, music from The Al O'Kane Band, The Back Wood Redeemers and DJ Shelasoul.
Active and In Touch are a local charity which were set up in 2011 in response to the number of people in and around Frome who were known to be suffering from social isolation and loneliness. The group has a network of volunteers who reach out to people and befriend them. It also runs weekly meetings for people to socialise with others, as well as other social trips and activities.
Lucia Chadwick project coordinator for Active & In touch said: "It is fantastic that the Mayor has been able to help highlight our work during his year and that Mayors charity bash is in aid of Active & in touch this year.  Please come and long and support the evening so that we can further our work"
Tickets are £10 with all proceeds going to Active and In Touch.  Tickets can be bought online or from the Town Hallhttp://buytickets.at/frometowncouncil/89955
Celebrate the Mayor's love of a good hat. Wear a Hat, best hat wins a prize!