How nice is it to see the trees coming into blossom at this time of year?  It's a sign of new beginnings and the promise of warmer, sunnier weather on the way. It's wonderful to walk along a path and smell the scent of a blossoming fruit tree or see children playing in the "confetti" of falling blooms.  And Frome Town Council would like to see more around the town.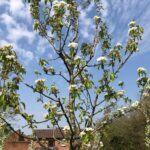 Inspired by the National Trust's "Blossom Together" project, FTC are asking for your suggestions of locations of where you would like to see blossom trees or blossom circles in the town.
Mayor Anita Collier says: "Seeing blossom at this time of year always puts a smile on my face. There's definitely something calming and promising for the summer ahead once you see the blossom in full effect. How nice would it be to dot more trees around the town for us all to enjoy next year? So, whether it's a tree next to your favourite bench, an avenue of cherry trees or a circle of blossom trees, let us know where you would like to see some planted".
Helen Viner, FTC's Wild about Trees Project Officer added: "There's lots of reasons to plant trees and there's no time like the present to think about what and where we could plant some wonderful blossom trees, if you give us your ideas, we can assess the feasibility and take it from there, so that everyone will be able to enjoy more blossom next year.
Head over to FTC's Your Priorities page where you will be able to upload your suggestions. If you can add a picture and details of the location that would be ideal. The more ideas the better, we can take a look at them all and talk to the relevant landowners if it's not FTC's land."
Please submit all your ideas by 30th April by using the Your Priorities platform.