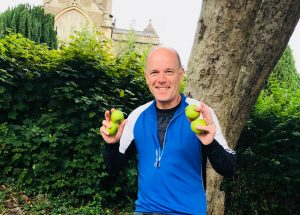 Local residents are invited to celebrate the new community orchard at the Old Showfield this Apple Day.
The celebrations start at 12pm on 21 October and include fun for all the family from face painting and apple crafting to other apple games.
Residents will also have the opportunity to have a guided tour of the orchard to discover the new space designed by volunteer Lou Miles from the Peculiar Botanist. They will learn about the fruit trees that have been planted and are encouraged to bring along their own apples to be pressed. Foraging walks will be taking place as well as a homemade jams and cakes available for sale. It will also be the unveiling of the name.
Mayor of Frome Richard Ackroyd said, "This is going to be a real community celebration with so much to see and do for anyone interested in finding out about the new orchard has to offer. The orchard will be a place for people to spend time and enjoy being outdoors which a good way to encourage positive health and wellbeing."
The orchard will be situated on the Old Showfield near to the Outdoor Gym and there will also be gym sessions to help you learn how to use the equipment taking place, so there really is something for everyone. 
Apple Day is held annually on the 21 October across the country as a way to celebrate the simple apple and local orchards. It began as a way to recognise orchards for the role they play contributing to local communities as well as the diverse range of wild life they support.
There will be lots of information and guidance available on the day about the varieties of fruit trees and wild flowers chosen for Frome's orchard and the birds, bugs and bees that will be attracted as a result.
To find out more please contact Frome Town Council on 01373 465757 or email info@frometowncouncil.gov.uk.