Dickon Moore, Mayor of Frome says thank you to all 95 of you who came to the Annual Town Meeting last night at the Merlin.
We had some great feedback centred on what a lovely community orientated meeting it was! We were really pleased with the number and quality of displays by local groups. When was the last time you went to a local town meeting that included a canoe and a dress from World War One? Overall it just goes to show how much is happening in Frome.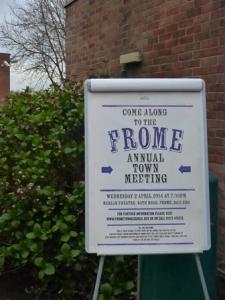 Mel Usher, Leader of the Council informed us that FTC will be concentrating its effort on five broad areas over the next 12 months: Boosting the identity and reputation of the town; Creating a thriving town centre; Self Reliance, Frome increasingly looking after itself; Making the best use of open spaces and Democracy and Engagement.
He also let everyone know that FTC is likely to acquire the Social Services buildings from the County Council and to develop a Community Hub. We are at an early stage in this project so please watch this space for more updates. If you know of a local group or small business who might like to become an early tenant of the Community Hub (probably from January next year) please let us know.
Congratulations to the Mayor's Civic Award winners; John Birkett–Smith, Richard Brindle, John Fuller, Ruth Diligent and Samantha Bull. They are typical of what is great about Frome.
There was some lively and informative discussions around the recent changes to the bus services in Frome by First Bus and Peter Wheelhouse will feed back on this page on what came up from his discussion with First Bus next Monday. There was also a call for more trees in the town centre which we will do our best to deliver via our Market Place re-modelling project. Street lighting and parking in specific areas of town were also raised as problematic and Jane Llewellyn and Patrick Moss (respectively) will be taking forward these requests with the relevant Council. Improving management of the river banks in the Market Yard area of town was also noted as in need of improvement and Simon Woollen will be taking this forward with Friends of the River Frome and Mendip DC.
The evening was rounded off by a lovely buffet from the ladies at the WI, cordial by Lisa's Country Kitchen, and we were serenaded with live music. We are already planning April 2015!
Yours Dickon