The packed council chamber played host to Frome's Annual Town Meeting on 6th April. The night kicked off with live music courtesy of Clare Krige, which set the tone for the following celebrations. Mayor of Frome Cllr Andy Wrintmore gave a look back of his year and presented his Civic Awards and Cllr Andy Palmer, Leader of the Council, gave the annual overview. Members of the community and an array of local groups and organisations also added to the evening, giving insights and stories to their activities and achievements over the past year.
Civic Awards winners 2022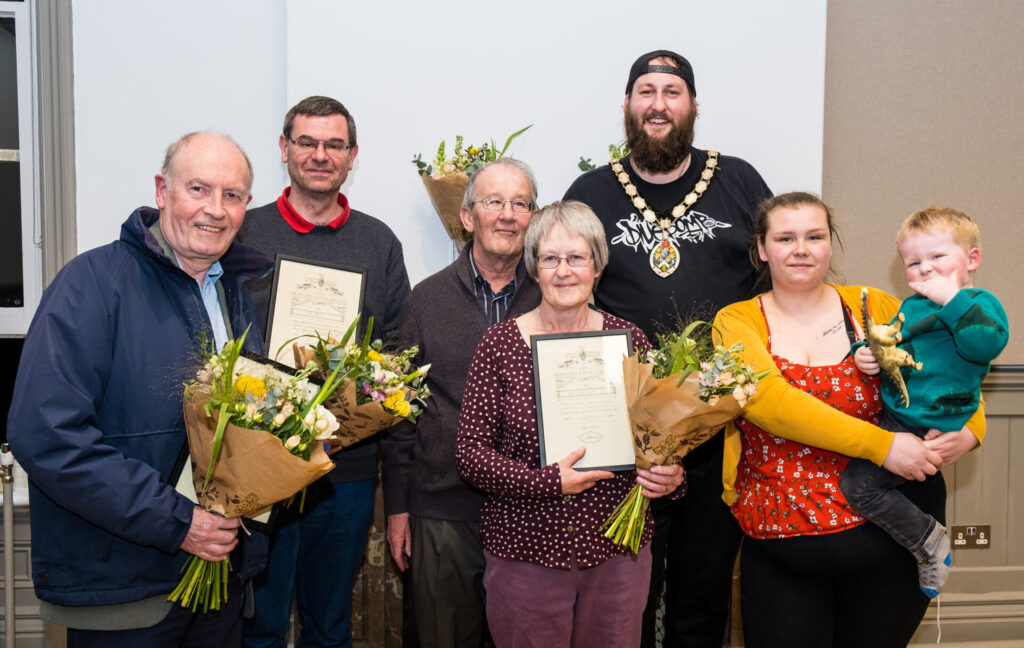 The Mayor's Civic Awards celebrate those in the community who have gone above and beyond. This year Cllr Wrintmore awarded 5 civic awards, Andy said: "I wanted to present these awards to recognise those folk in Frome who have worked tirelessly for others during the past year. They have gone above and beyond and I felt they needed celebrating – you can read their stories below":
Jim Parsons
Jim is the secretary of the Frome Dissenters' Cemetery. This unique place is located on Vallis Road and is the burial place of many past Frome residents. Dissenters were Christians who did not accept the 1662 version of the Book of Common Prayer. Since 2002 the cemetery has been restored by Jim and many volunteers. The award is for the continuous dedication and passion, preserving and maintaining the beauty, peace, tranquility and dignity of the Frome Dissenters' Cemetery. Jim's award was collected by his son Jim.
Paige Starr
Paige is the Platoon Leader for the Frome Branch of the Somerset Army Cadets. The cadets are close to my heart as I was a member in my teen years. Paige has gone above and beyond during the pandemic and still to this day to provides not only an army cadet experience for the guys there but also much more than that, pastoral work, moral leadership, support of varying kinds, and she and the Army Cadets deserve the recognition.
Justin Worringham
Justin is chair of the Frome Twinning Association. The Association works hard to encourage relationships and links with the towns of Rabka in Poland, Murrhardt in Germany and Chateau Gontier in France. Justin plays a key role in this visiting all the twin towns, hosting and coordinating the other twinning association members who host, and generally spearheading the whole twinning movement. This is awarded for tireless efforts representing Frome admirably and our valued twin towns.
Jan and Ann Taylor
The Gateway Club is a wonderful Frome institution and has been running for over 50 years! It is currently run by Ann who is ably assisted by her husband Jan. The club supports adults with learning difficulties via social activities. I have been lucky enough to be invited to some of their events over the past year including a Caribbean evening. Ann and Jan who work tirelessly were so welcoming, I really love the Gateway Club, I love the energy, I love everything about it.
Grace Madrell
Full confession I have not had the pleasure of meeting Grace in person but when my colleagues suggested them as a person to recognise I was in full agreement. Grace is only 16 years old and can teach us all a thing or two about activism. They have already written and published a book called 'Tomorrow is too Late'. In the book Grace collects testimonies of activism and hope from young climate strikers, from Brazil and Burundi to Pakistan and Palestine. The book is an inspiring collection of essays from young people in the search for climate justice, and offers a manifesto for how you can engage, educate, and inspire change for a more hopeful future. Grace can often be found campaigning and had held weekly strikes to save the Congo Rainforest. Grace wasn't able to attend the meeting, but we will meet up in a couple of weeks where I will present their award in person.
In addition to the Annual Town Meeting, the Annual Council Meeting will take place on Wednesday 18th May 2022. Further details can be found on the meeting committees and meetings page.