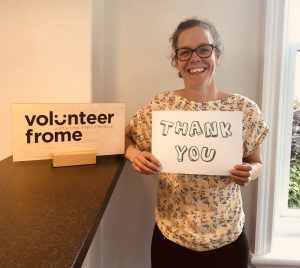 In recognition of Volunteer Week (1-7 June) Volunteer Frome are thanking hundreds of passionate volunteers across the town.
Frome Volunteers give their time in many different ways; fundraising and supporting local charities, running voluntary theatres, caring for green spaces and historic buildings, in sports clubs and art groups and so much more.
Volunteer Frome helps anyone who wants to make a difference to find interesting and rewarding volunteering opportunities. It also works with organisations to promote good quality experiences.
Helen Fielden, Volunteer Frome's Co-ordinator said 'We really want to thank all volunteers across the town for giving their time and energy to support the local community. We have new people registering on our website all the time to take advantage of the wide range of opportunities available.'
Frome Town Council has a new Noticeboard Ambassador role advertised on Volunteer Frome's website. The volunteer would be responsible for keeping the noticeboards across the town looking fresh and relevant and highlight all the great community events and activities that Frome has to offer.
The position needs someone with a strong attention to detail, a love of arranging information and making things look good. It would be a great chance for anyone who has an interest in marketing and tourism to gain a bit of experience and develop their skills.
Frome Town Council also has volunteering roles at the Discover Frome information point, where volunteers provide helpful information for visitors and residents, from bus timetables and general directions to details about local arts, culture and events.
Volunteering is a great way to give back to your community, but it also has benefits for the individual offering their time and skills. Studies have shown that as well as looking good on your CV it can have a positive impact on your health and wellbeing.
To find out more about volunteering in Frome go to: http://volunteer.volunteerfrome.org/
To find out more about the volunteer roles with Frome Town Council here: http://volunteer.volunteerfrome.org/organisations/10648/frome-town-council