Fair Frome have raised over £3,600 in just 48 hours with the help of The Frome Independent and Frome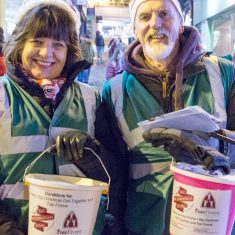 Town Council.
The total amount raised was £3,626.98 and will fund a free Christmas Day lunch for those who are on their own or can't afford a Christmas meal on Christmas Day. Funds will also provide emergency food parcels and Christmas gift bags throughout December and support community lunches in areas across the town for the year ahead.
Volunteers from Fair Frome were out in force during Frome Town Council's Christmas Light Switch-On on the evening of Friday 1st December, and for The Frome Independent's final 2017 market day on Sunday 3rd. They collected cash donations for Fair Frome and Frome's Big Christmas Get Together, a community Christmas lunch for anyone in the Frome community who doesn't want to be alone on Christmas Day.
The Frome Independent attracted over 12,000 visitors to Frome on Sunday 3rd December, who were encouraged to dig deep for these local charities. There was a Vintage Christmas theme down at the market's pop-up Village Green, which included a wartime raffle hosted by Frome's unique heritage theatre company, The Little Victory Ball.   There were over 120 raffle tickets sold in under two hours, and ticket holders were enticed with a chance of winning a range of genuine wartime prizes and some amazing gifts, vouchers and experiences donated by Frome's local shops and businesses.
The Frome Independent team also contributed fares collected on their special market day Park & Ride buses, which transported thousands of visitors to and from the market throughout the day.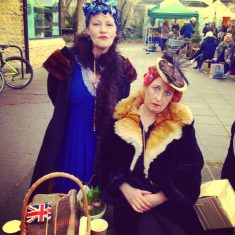 Fair Frome is a charity that delivers a number of essential services in the town, including the food bank, and works with local people from all backgrounds to promote greater equality.  Frome's Big Christmas Get Together is a free community festive lunch held at Frome Town Football Club for anyone who would like company on Christmas Day.   Both organisations work closely together all year round, but especially in December when many people in the local area struggle to make ends meet.
Emma Warren, who is a trustee for Fair Frome was absolutely overwhelmed with the generosity shown by local residents and visitors to the town in just one weekend. She said: "We know its not an easy time for many people, but to receive so many generous donations really is very heartwarming. We are very grateful to the organisers of last weeknd's events who gave so much kind support and goodwill. Your time made a real difference to your community – thank you so very much."
Tabitha Clayson, director of The Frome Independent said that her team were delighted to have supported Fair Frome again this year.  "As Frome residents ourselves, our whole team know how important it is that we support Fair Frome, which runs so many vital services and the town's only food bank. It was fantastic to see so many residents and market visitors show their support last Sunday too."
Frome's Big Christmas Get Together takes place at Frome Football Club on Christmas Day. If you're interested in attending or volunteering on the day, please contact fromechristmas@gmail.com. The Frome Independent returns in March 2018, for full information about the market, please visit www.thefromeindependent.org.uk.