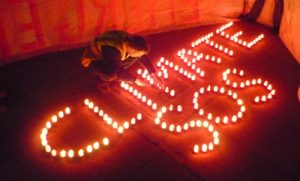 Climate Emergency Panels and Meetings
Frome Town Council hosted a series of free climate panels in 2019 for people to develop ideas and solutions to enable the town to meet its climate emergency targets. The panels took place on:
Tuesday 12th November, Energy, how can we reduce the amount we use and generate energy cleanly? Climate Panel presentation – energy. (PDF, 6.85 MB)
Tuesday 19th November. Transport, how can we reduce transport needs and air pollution? Presentation here
Tuesday 26th November, Resources, how can we reduce the impact of the things we buy? Presentation here
Thursday 5th December –  7pm, Cheese and Grain, Frome.  Frome Town Council and Sustainable Frome will be hosting  a talk by Rob Hopkins, founder of the Transition movement. Rob will be discussing how we can create a better future following publication of his new book 'From What Is to What If – unleashing power of imagination to create the future we want'. Book tickets here
In 2020:
Saturday 18th January: SHARE Swap Shop, 10-12pm Frome Town Hall
Thursday 6th February: Talking to family and friends about Climate Change – Nikki Jones, 7pm, Town Hall, free
Saturday 15th February: Somerset Climate Summit (Mendip District Council, Shepton Mallet)
Tuesday 18th February: Tree planting 500 whips at Birch Hill Lane
Wednesday 19th & Thursday 20th February:  Tree planting 800 whips at Weylands
Sunday 23rd February: Repair Café, 3-5pm, Welsh Mill Hub
Tuesday 3rd March: Mendip Climate Summit, 7-9pm, Frome Town Hall
Why Climate Emergency?
It is now clear that the world has less than 11 years to switch away from fossil fuels to avoid the worst impacts of climate change (see IPCC report here).
In response to this on 5 December 2018 Frome Town Council declared a climate emergency and committed to going carbon neutral by 2030. The Councillors also unanimously agreed to sign up to the Covenant of Mayors to track progress and link with towns around the world who are cutting emissions.
As well as helping to raise the profile of this vital issue and secure external support and funding, reducing energy use and switching to clean energy will also increase energy security, improve air quality, minimise fuel poverty, boost the local economy and provide jobs and training.
If you would like to declare a climate emergency in your town feel free to adapt Frome Town Council's Climate Emergency paper, Climate Emergency presentation and  Zero Carbon tool.  And see ideas below which you might be able to do in your area too.
See the map showing local governments that have declared a Climate Emergency here.
Low and No Cost Ideas to Cut Emissions
Here are some ideas that we are trying in Frome. Any decision to do something similar in your area is at your own discretion. Or do drop us a line to find out more.
Solar Streets: Local installer Iddea is offering significantly discounted solar installations to local residents if we can get ten or more to sign up. Referers get £100 and £50 goes towards free solar panels for YMCA's local youth centre. Iddea are keen to do similar offers in other areas, contact them here
Commercial Offer: companies such as Green Nation  can install free solar on commercial roofs and offer building users a significant discount.
Community energy: if there is a community energy organisation in your area find out more about what they are doing and see if they can provide free community owned solar panels on local buildings – this works particularly well on community focused organisations such as medical practices and sports clubs.
Cut carbon at local schools: encourage local schools to sign up to Energy Sparks: – it's free to join and provides real time information on energy including out of hours, as well as curriculum-led activities to help reduce costs and carbon.
Cut carbon and methane from food: does your area have a community fridge?  Frome's fridge saves over  90,000 items and 130 tonnes of greenhouse gases each year. Hubub  run the national community fridge network and offer support for new groups to set up, more info here
Electric charge points:  Zero Carbon World can provide free chargers on commercial and community buildings (but don't cover installation or metering).  We are working with Book My Charge to encourage people with domestic charge points to share and cover their costs and to enable people to book charging sessions. Companies like Raw Charging can provide EV charge points for free in areas where usage will be high. Raw Charging cover all costs, users pay via their phone or card and Raw do a profit share once utilisation has reached a certain point – they do however, need an exclusivity agreement as part of this.
Car club: talk to car club providers such as Co-Wheels (who are a social enterprise), about having hybrid vehicles available for hire, one car club car displaces around ten privately owned vehicles on average and are often lower emission too.
New developments: if there are large developments planned in your area it might be worth talking to the Microgrid Foundry. They work in partnership with community energy organsations to install solar, batteries and a microgrid to maximise renewable generation on site.
Climate Emergency Workshop, 15th February 2019
On 15th February representatives from towns and villages around the South West came together to discuss solutions and share ideas on how we can reach these ambitious but vital zero carbon targets. The event was held on national Fuel Poverty Awareness day and
The presentations from Anna Francis, outlining Frome's work in this area is Frome Climate Emergency Workshop 2019
Liz Warren from SE2's fuel poverty presentation is Frome Fuel Poverty 150219