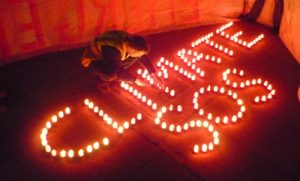 Frome Town Council believes that urgent action is required if we are to reduce the massive risks associated with climate change for nature, people and the planet.
It is now clear that the world has less than 11 years to switch away from fossil fuels to avoid the worst impacts of climate change (Read the IPCC report).
In response to this on 5 December 2018 Frome Town Council declared a climate emergency and committed to going carbon neutral by 2030. The Councillors also unanimously agreed to sign up to the Covenant of Mayors to track progress and link with towns around the world who are cutting emissions.
As well as helping to raise the profile of this vital issue and secure external support and funding, reducing energy use and switching to clean energy will also increase energy security, improve air quality, minimise fuel poverty, boost the local economy and provide jobs and training.
If you would like to declare a climate emergency in your town feel free to adapt Frome Town Council's Climate Emergency paper (PDF, 81KB), Climate Emergency presentation (PDF, 3.31MB) and  Zero Carbon tool (xlsx, 83KB) And see ideas below which you might be able to do in your area too.
View the map showing local governments that have declared a Climate Emergency.
Climate Emergency Strategy and Action Plan
Frome Town Council hosted a series of free climate panels in 2019 for people to develop ideas and solutions to enable the town to meet its climate emergency targets. The first draft of the strategy and action plan are available below.
Frome Town Council Climate Emergency Strategy 2020 (PDF, 649KB)
Climate-Emergency-Matrix-Frome-March-2020 (Excel 47kb)
The panels discussed the following issues:
Energy – how can we reduce the amount we use and generate energy cleanly? Climate Panel presentation – energy. (PDF, 6.85 MB)
Transport – how can we reduce transport needs and air pollution? Climate Panel Presentation – Transport (PDF, 6.85MB)
Resources – how can we reduce the impact of the things we buy? Presentation Climate Panel Presentation – Resources (PDF 6.85MB)
In December 2019, Frome Town Council and Sustainable Frome hosted a talk by Rob Hopkins, founder of the Transition movement. Rob's discussion focused on how we can create a better future, following publication of his new book 'From What Is to What If – unleashing power of imagination to create the future we want'.
You can watch the recording of Rob Hopkin's talk on YouTube here.
Climate Emergency What Next
In May 2020 we hosted an online event for council staff from across the region to come together to learn and share ideas on how to take action against climate change. Download the accompanying PDF (1.24MB) More resources can be found in our Made Differently pages.
Climate Emergency Workshop
Representatives from towns and villages around the South West came together to discuss solutions and share ideas on how we can reach these ambitious but vital zero carbon targets. The event was held on national Fuel Poverty Awareness day and
The presentations from Anna Francis, outlining Frome's work in this area is Frome Climate Emergency Workshop 2019 (pptx, 15.9MB)
Liz Warren from SE2's fuel poverty presentation is Frome Fuel Poverty (pptx, 137 KB)