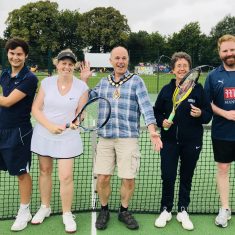 Tennis For Free in Frome is happening!
What is Tennis For Free?
Tennis For Free provides free access to tennis courts and coach led tennis sessions, targeted at everyone in the local community, whatever your age or ability. We've worked with national charity Tennis For Free and Frome Selwood Tennis Club to be able to make this happen here in Frome.
Who can join in with Tennis For Free sessions?
Tennis For Free is for anyone of any age or ability to join in with. You can sign up to come along by yourself or bring the family. You don't need to be an amazing tennis player to take part and any equipment you need will be provided for you. We really do want these sessions to be for anyone. All are welcome, even if you've never picked up a tennis racket before.
When and where will Tennis For Free sessions in Frome take place?
Sessions in Frome will take place at the community courts on the Mary Baily Playing Field, between Selwood Road and Park Road. Sessions are free to join in with but booking will be essential.
Coach led Tennis For Free sessions will take place at the following times:
Additional free play sessions will also be available during the week:
Monday – Friday 3.30-5.00
What happens at Tennis For Free sessions?
The Tennis For Free sessions are designed to be family friendly and are aimed at all abilities.
Sessions will be split into groups, depending on the abilities of people taking part – so for example, beginners group, improvers group, parent and child group.
Each Saturday session is 1.5 hours long. The first hour will be coach led and will involve fun drills and games (rather than coaching) and the final half hour will be available for open play.
There will be a maximum of 35 places available at each Saturday session – pre-booking to take part is essential. See below for more on how to book.
How can I book to take part in Tennis for Free in Frome?
Booking to take part in Saturday sessions is easy. You will first need to register (which takes a minute or so) and you can then book onto your choice of session dates. Register and book here. If for any reason you're unable to register / book please come along on a Saturday and speak to one of the coaches who can help you with this. Places per Saturday session are limited, which is why the pre-booking is really helpful.
Other opportunities to play tennis in Frome…..
As well as the free Saturday coach led sessions and free weekday late afternoon sessions there are other ways you can play tennis in Frome at other times.
Community Tennis Courts
Frome's Community Tennis Courts are available for use by the public. They are in the Mary Baily Playing Field and hire charges are £5 per hour. Courts can be booked up to two weeks in advance and entry is gained by a keypad access system. A 4 digit code will be sent to you when you book and this gives you access up to 15 minutes before your court booking time. You can book your sessions at the Community Tennis Courts here.
If you're thinking of using the Community Courts on a regular basis then the Annual Community Season Ticket is a good way to pay for your play. The season ticket costs £40 and is valid for a year from the date of purchase. More information on the season ticket is available here.
She Rallies
She Rallies is a national programme to encourage women and girls to play tennis. The programme is led nationally by Judy Murray and aims to make tennis enjoyable, friendly and fun, whatever level you play at. To join in with She Rallies in Frome please email Sandra at Frome Selwood Tennis Club or text her on 07981 400814. Your first session is free and sessions cost just £1 thereafter. Equipment is provided.
Frome Selwood Tennis Club
Frome Selwood Tennis Club has a number of different membership options and coaching opportunities that people in Frome are welcome to join in with. Club night sessions take place on a Tuesday and Thursday (both at 6pm) and people are welcome to come along to those to find out more. You get your first month of play for free! If you're interested in joining the club or want to find out more than contact Sandra Docherty, Membership Secretary. There are concessionary membership discounts for people who are in receipt of a range of benefits. Find out more about joining Frome Selwood Tennis Club here.
Page updated 22 October 2018