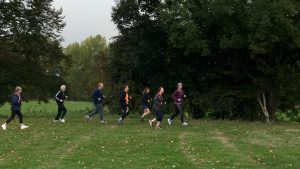 Get running in Frome
Want to get running in Frome? Interested in starting running or getting back to running? Or can you already run 5km and want to join others for a sociable run or learn more about trail running? If this sounds like you, then there are new running courses starting in Frome and we hope there's something for anyone of any ability to join in with!
You can see all the details of the different groups that we're aware of below, but there's a summary of the groups here – listed by day / time so it's easy to see what might fit in with your other day to day commitments.
If you know of other opportunities to get running in Frome please let us know and we can add them to this page.
And if you're someone who's getting started with running or has benefited from joining in with one of these groups in the past then we'd love to hear from you so we can share your story with others who might be thinking about running too.
Get started with running….
If you want to get running in Frome then how about joining one of the Couch to 5k groups? Sessions are aimed at absolute beginners, those with little or no confidence that they can even run for the bus let alone consider running 5k or those who need a little inspiration to get back into running. Join one of these groups and at the end of the 10 week course, with one session a week and a little bit of running homework in-between, you will be surprised at the fact you can run for 30 minutes or so by the end of it. Trust us….we've been there ourselves.
So if this sounds like you, take a look at these upcoming courses.
School Gate Runs
Frome Town Council is supporting DEKA runners to set up what we hope to be a series of 'school gate runs'. These are timed to take place just after school drop off time and are open to anyone, whether dropping children off at school or living nearby. The sessions will include Couch to 5k style running, alongside support for those new or more experienced with running. These runs are a great opportunity to meet new people and to get 30 minutes of exercise under your belt early in the day. No fancy kit is needed!
These sessions are FREE to take part in and you can join in at any time – don't worry if you miss the first few weeks as the runs will be tailored to suit all abilities. For more information and to sign up to join in click here. 
These runs will take place on Thursdays throughout the Autumn term. We hope eventually to role this scheme out to other schools in Frome – let us know if your school is keen to take part and we can chat to you about how we can make this happen.
Putting the RUN back into the school run! 🏃‍♀️🏃‍♂️Meet the school gate runners 🏃🏃🏃

Posted by BBC Somerset on Friday, 5 October 2018
Want to start the week with a run?
Frome Medical Practice launched a new Couch to 5k course on 1st October 2018 for people who want to get running and improve their physical and mental health. This course is targeted at anyone but if you've a health condition then the run leaders (a GP, health connector, personal trainer and mental health nurse) on this course will be particularly pleased to see you and well placed to offer you support.  This group, as with all running groups, aims to combine the mental and physical benefits that come with being more active. Absolute beginners are more than welcome – you might not have done any exercise for years, if at all, but the course starts off with gentle walking and so is manageable for most people.
To find out more call 01373 468368 for more information about future similar courses.
And there's another beginners running course you could join!
Frome Running Club also hosts regular beginners running courses where you can get running. You don't have to be a member of the running club to take part. To find out more and to check when the next course starts email the Club Secretary Katherine on info@fromerunningclub.co.uk
Can you already run but looking for a more sociable group to be active with?
If you can already run for around 5k then the Keep On Running sessions are for you. These take place weekly from the Likeys / DEKA shop in the Kingsway precinct and you can pay weekly (£3) to join in. Sessions will vary each week to keep things interesting – but they will always be fun and sociable! More info and sign up for the weekly runs here.
Frome Running Club welcomes people along to their sessions on a Wednesday evening. Sessions are open to people who are familiar with exercise, have basic running kit including running shoes or trainers and can run at a slow to moderate pace for at least 30 minutes. You must be 16 or over to join the club but there is a junior section for under 16s. More information about Frome Running Club is available here.
Last updated on 11 November 2018