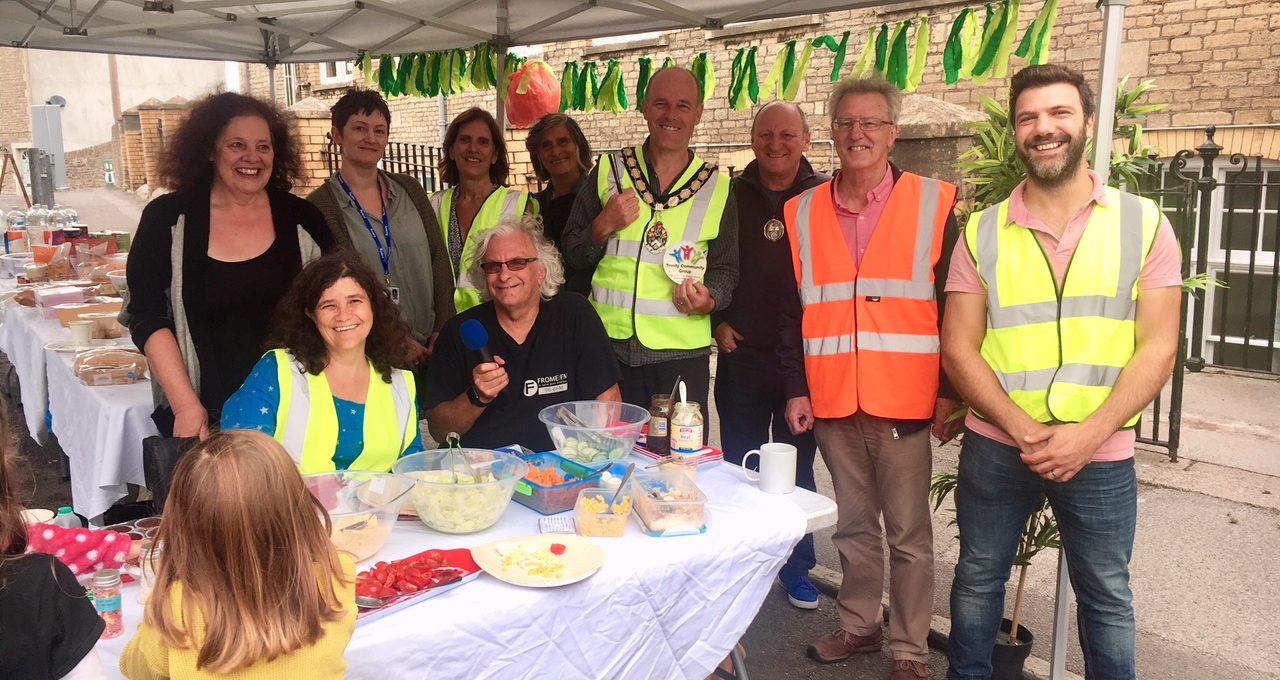 As part of the 2016/17 Work Programme Frome Town Council commissioned a baseline study at street level to understand what role Frome Town Council could play in creating more opportunities for citizen participation, improved communication and inclusion.
This report details the findings of this pilot study which was delivered by Annabelle Macfadyen and Meki Nattero and concluded in April 2016.
The pilot study started by identifying three street level communities that appeared different – Packsaddle, Trinity Park (part of the Garston Road development) and Trinity area. The consultants then carried out a comprehensive study of these areas using a number of different methods including three small local events. They then considered how the people living in each of these areas could be supported to build community cohesion and whether there were any information gaps.
The study recommends that work with the three communities should continue for six months in order to continue to build community cohesion. At the end of six months, the project will be reviewed and a decision can be made about rolling out the approach to other communities in Frome
The complete study can be found here:
Executive summary
Community Connections Pilot Study – April 2016
Frome Town Council recognizes the importance of helping communities become more connected so that people can share information, feel less isolated and increase their sense of belonging and wellbeing. During 2015 the Town Council set up a Wellbeing panel which identified the need to create more spaces for citizen participation at street level, improve communication and inclusion. As a result of the discussions in this forum, it became evident that in some areas of Frome the levels of community cohesion – or a lack of it – vary from neighbourhood to neighbourhood, and sometimes from street to street. This highlighted the importance of developing different types of support tailored to the needs of each community at street level.
In response to these findings, Frome Town Council commissioned a piece of research aimed at establishing a baseline for three pilot communities in Frome, in order to understand how connected these communities currently are and what kind of support or interventions could help them become more supportive, inclusive and connected.
Project purpose and aim
Purpose
To better understand the current levels of social connectedness and sense of belonging in specific communities in Frome in order to support the development of stronger communities and affect positive change.
Aim
To develop a baseline for three communities in Frome in order to determine priorities and recommend locally relevant interventions that support the needs of these communities to become more connected and cohesive.
Findings
Key themes, supported by a series of insights, emerged through the conversations and interviews with local residents:
Increased levels of isolation among residents, especially those with mobility and health challenges
The challenges of being a disparate and diverse community
A need for more resident empowerment
A desire for a greater community feeling
Conclusions
As a result of the research, interviews and events carried out in the three pilot communities we can conclude that there are certain conditions which have determined social connectedness and sense of belonging in these communities, namely:
the presence of a community leader who has taken action to bring residents together;
the number of community events happening in the neighbourhood;
the presence of organisations working across the whole community; another important factor was
access to a communal space in the neighbourhood such as a green area
It is clear to us that the engagement with the pilot communities that came about through this baseline study in itself had a positive impact in those communities. We strongly believe that further engagement in the short and medium term is required in order to capitalise on the positive impact already achieved, and so that newly-formed community connections and networks are supported to flourish.
Finally, we believe that the models and learnings for supporting the development of more connected communities that have emerged through this study could, once tested further in the pilot areas, be used as a blueprint for Frome Town Council to take forward to other communities in Frome, in the future.
Key insight
Every community, at a street level:
is unique:
It has its own resources which are particular to that specific area, including: its history, demographics, the characteristics of its built environment, its assets, facilities, relationships and networks.
has responsibilities for looking after its own wellbeing, including:
for developing social networks
for resolving differences
As such, the knowledge and understanding of each street-level community's needs and wants sits within the community itself.
Recommendations
In the light of people's desire for a stronger community feeling, to combat isolation and to see more community activities in their neighbourhood we recommend that:
A second phase of the Community Connections project is developed and implemented within six months in order to capitalise on the positive impact already achieved in the baseline study phase, and so that existing and newly-formed community connections and networks are supported to flourish. We recommend that this should be done as follows:
By July 2016, emerging community leaders in each area are offered appropriate support to enable them to host or develop an initiative in their community that it is inclusive and reaches a wide range of residents. In order to make this happen, Frome Town Council should provide a facilitator to support community leaders in each pilot area as described above.
If appropriate and desired by local residents in each area, within six months the facilitator will facilitate a community meeting aimed specifically for residents to share their concerns and issues about their area (such as anti-social behaviour, speeding, vandalism). The ward councillor(s) would take part in this meeting.
Throughout the following six months, emerging leaders and their community groups are provided with ongoing support by the facilitator, with the aim to strengthen the community group, build up individual and group skills and ensure the group's sustainability over time.
To address people's lack of understanding of the different levels of authority who are responsible for meeting their needs and to improve resident empowerment we recommend that:
By July 2016, Frome Town Council produces and rolls out a clear and visible communications campaign to inform people of the areas of responsibility for service provision of the different levels of local government (town, district and county levels). This campaign would be of benefit to all Frome residents and we therefore recommend that it is undertaken as a Frome-wide initiative.
In the following six months, Frome Town Councillors from each ward should seek opportunities to meet their ward residents for face to face meetings to enable people to get to know their local representatives and ensure a fluid communication channel with local authorities. This would be achieved by arranging regular surgeries in their ward and by setting up community meetings where people can talk about local issues and find out how they can be supported in their community initiatives.
Both 1) and 2) above would have a positive impact both for Frome residents and for Frome Town Council in terms of:
increased sense of empowerment with residents as their understanding of jurisdiction of issues is improved, leading to focused communication with the right authority, and awareness of what is in their power to change or do;
reduced resident inquiries to Frome Town Council for matters beyond their jurisdiction;
Improved relationship between local citizens and the Town Council.
In order to capitalise on the learnings and models developed through a Phase 2 of the Community Connections project, and with the aim to build skills and resources across the whole Frome community, for residents to create positive change in their areas and improve their wellbeing and quality of life, we recommend that:
After a six-month cycle of A and B above, a training package is developed with the aim of providing training workshops for community leaders across Frome in the aspects of community development and leadership that were most useful for leaders in the pilot areas. The training package would be developed by, or in coordination with, the facilitator/community organiser(s) involved in the pilot project.