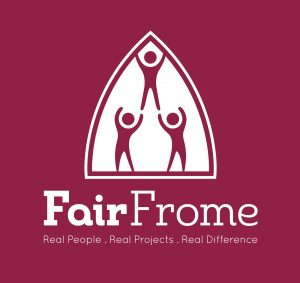 Fair Frome is based at Frome Town Hall (the building at the rear) and is an independent charity (CIO) that has been set up to support local people to bounce back from the difficulties of living with poverty.  There are lots of ways that poverty can affect people's lives, including differences in health, opportunities for education, chances to make the right choices and enough money to live on.
The charity delivers hands on projects, as well as working with existing organisations to build services for Frome and the surrounding areas.  The core areas of activity are:
Food Bank: referral scheme and open 10.00 – 13.00 on Mondays, Wednesdays and Fridays.  See www.fairfrome.org for further information or call 01373 488578.
Furniture Bank: this referral scheme collects and delivers furniture and household items to people referred by local support agencies & now includes white goods and small electrical items
Community Dining Programme – community lunches in different venues around the town during the year.
Campaigns – currently raising awareness around accessibility of venues in the town and working with partners to bring about improvements.
Fundraising – the charity relies on grants and donations to sustain projects and start new ones.  Please join the Volunteers Fundraising Team or if you have spare cash, donate to them..
Fair Frome Centre Open Hours:  10:00 – 13:00 Monday, Wednesday and Friday (or contact the Co-ordinator for an appointment).
Weekly drop-in surgeries:
Tuesdays 11:00 – 13:00 Housing enquiry drop-in sessions for individuals and couples over 25.  Homeless, facing eviction/ struggling with council tax payments.
13:30 – 16:00 Aster debt advice drop-in sessions for Aster tenants.
You can find out more about their work by visiting their Facebook Page www.facebook.com/FairFrome and their website www.fairfrome.org. Or you can call 01373 488578 or email  info@fairfrome.org.
Last updated 11th December 2018