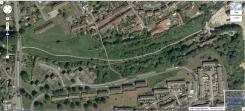 Edventure is a wonderful Frome based social enterprise supporting young adults to take initiative and create viable, sustainable futures for themselves and for their communities.
This year, amongst various other projects, they have been engaged in delivering a consultation process aimed at discovering the communities' aspirations for The Dippy public space in Frome.
The Dippy is a large area of green space, off Culverhill, with steeply banked sides to north and south with concrete culvert running downhill through the centre sloping from west to east.
Frome Town Council is currently in discussion with Mendip District Council to take over this area with the intention of allowing local people to decide how it can be used and improved. The discussion surrounding the future of The Dippy is the project Edventure have been focused on facilitating in a uniquely engaging way.
As part of the consultation process Edventure determined they wanted to deploy a fresh approach to engagement, ensuring the people of Frome were part of the conversation and to get the widest spread of information possible. To start they ran an initial meeting at the beginning of 'Participation Week'Participate Frome week and were able to enthuse a group of people to get involved at this preliminary stage, a very enthusiastic group of people were keen to get involved which set the tone for a very successful project. It was decided that a series of information gathering events would be run at The Dippy to gain maximum community interest as part of Participate Frome activities. The local estate was leafleted with times and dates of the events, posters were put up in local shop windows and the team also engaged with the 'Participate Frome' project. Positioning themselves on the site for several events proved to be a highly effective way of gaining people's opinions, and almost certainly engaged demographics that could have otherwise been left unheard.
There were a number of events aimed at various groups of people in Frome, compromising story telling and memory board events where people mapped out their experiences related to the space on a map, talking to neighbours and older Frome residents about their experiences with The Dippy, bramble pulling, litter picking, questionnaires and a treasure hunt for children. The team at Edventure spent a great deal of time talking with all the walkers and friends who attended these events over hot chocolate and delicious pizzas from their wood fired oven
The overall general agreement was that people wanted to see an accessible area that is wildlife and people friendly. In moving forward it is recommended that any future development of the Dippy be implemented by members of the community under the auspices of the Community Association. Frome Town Council and other sympathetic organisations and groups would play a major part in supporting this enterprise.
New bins for dog poo should be provided at the crossroads, and a general awareness of "picking up" should be encouraged through signage and potential community intervention. It was also suggested that the collection bins behind the wall on the mount side should be more regularly emptied in order to prevent fly tipping. Continual management of brambles would be advisable, however there was also a lot of enthusiasm from the community to be involved in "slashing". A full wildlife survey would be encouraged before taking any serious action. Measures to support the wildlife and nature of The Dippy could then be explored include encouraging a wildflower meadow and planting native woodland flowers amongst the trees. In order to encourage the community to respect and appreciate wildlife and nature it was suggested that information boards, beehives, birdwatching stations and nature trails could also be introduced.
There are access issues surrounding The Dippy and is was suggested that the gates should be changed to make them wheelchair, push chair and mobility scooter accessible, as a larger investment winding paths could be introduced in the steeper paths to reduce the slope (i.e. from the mount into the crossroad). Pathways should also be maintained more closely.
Benches and picnic areas for socialising was a common request, however only as a minimal intervention. Generally the community felt they would like the "wild" nature of the place to remain and that The Dippy does not become "gardenified". Clearing of undergrowth and better systems for managing litter would undoubtedly improve the environment for socialising and playing, if lighting were to be introduced, it would be recommended that these be solar lights which only work in the early evening to aid dog walkers yet not interfere with star gazing (The Dippy is very rarely used at night time anyway).
Further consultation around the issue of horses and the travelling community needs to be addressed. This issue is much larger than the sphere of the Dippy consultation, extending to legal rights to graze, there are potential routes into a discussion through Aster communities who provide housing to some of the settled travelling community and also through Christchurch school who they have apparently worked cooperatively with on community projects in the past, it was recommended that this was explored further.