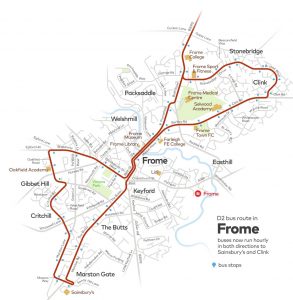 The First 267 bus will finish running on Saturday 28th April, and from Sunday April 29th a new service will start between Bath & Frome – the D2. On the new route there will also be a new fleet of DISCOVER buses, providing more comfort on this 15 mile journey, with free on-board wifi, USB phone charging points and a contactless payment facility. One of the new buses will be on display at Sainsbury's Frome on Saturday 28th April.
During the day (Monday to Saturday) the D2 route will run every 30 minutes, which is twice as often as the current 267 service. In the evening and on Sundays the D2 will have a similar timetable to the current 267 service. The full D2 timetable can be found here.
Ticket deals for the D2 include a group ticket '5 go for £13', and '£27 for 10 single journeys' to use anytime within 12 months. See First Group's website for more details, or ask your driver.
First's promotional material for this new route will be featuring Frome as a 'destination' and it is expected that this new service will attract more business into the town and nearby villages.
The upgraded fleet and dramatically increased frequency is a very welcome commitment, by the First Group to Frome and the surrounding villages. The recent FAVBUG survey demonstrated just how vital this link with Bath is for work, education and leisure.
In other bus-related news:
At the same time as introducing the D2 service to Frome from Bath, First is also introducing a D1 service from Bath to Trowbridge (and onto Salisbury), and a D3 service from Bath to Melksham and Devises.
FAVBUG has been told that the Faresaver X67 schedule will continue unchanged from April 29th.
On Saturday April 28th, 8am – 12 noon, in Frome Market Place, FAVBUG will be holding one of its regular Bus Stall Events. Here you can find out more information about all of the bus services in Frome.  You can also find information on all the buses stopping in the Market Place on the new bus timetable leaflet created by FAVBUG and Frome Town Council.