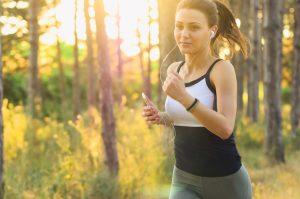 Get running in Frome!
Want to get running in Frome? Interested in starting running or getting back to running? Or can you already run 5km and want to join others for a
sociable run or learn more about trail running? If this sounds like you, then there are new running courses starting in Frome and we hope there's something for anyone of any ability to join in with!
Can you already run but looking for a more sociable group to be active with?
If you can already run for around 5k then the Keep On Running sessions are for you – especially helpful at this time of year with the Frome Half Marathon on the horizon! These take place weekly from the bandstand in Victoria Park (Thursdays) or from the DEKA shop in the Kingsway precinct (Tuesdays) and you can pay weekly (£3) to join in. Sessions will vary each week to keep things interesting – but they will always be fun and sociable!
Get started with running….
If you want to get running in Frome then how about joining one of the Couch to 5k groups? There are two different sessions to choose from, but both are aimed at absolute beginners, those with little or no confidence that they can even run for the bus let alone consider running 5k or those who need a little inspiration to get back into running. Join one of these groups and at the end of the 10 week course, with one session a week and a little bit of running homework in-between, you will be surprised at the fact you can run for 30 minutes or so by the end of it. Trust us….we've been there ourselves!
So if this sounds like you, here are the two courses to take a look at…..sign up for a 10 week course for £40.
Get Running, starts Tuesday 1st May with sessions taking place at 6pm – more info and sign up here
Couch to 5k, starts Wednesday 2nd May with sessions taking place at 9.30am – more info and sign up here
If you missed out on joining these sessions there will be more throughout the year and we will update this page as soon as we have new dates (next courses are likely to start in September.)
And there's another beginners running course you can join!
If the times above don't suit you then why not take part in a beginners running course being organised by Frome Running Club? This starts on Thursday 3rd May at 7pm and costs £30 for ten weeks. You don't have to be a member of the running club to take part. To confirm a place on the course email the Club Secretary Katherine on info@fromerunningclub.co.uk  And if you miss this start date then you can let the club know you're interested in future courses here.
Want to start the week with a run?
Frome Medical Practice is launching a new Couch to 5k course on 14th May 2018. This course is targeted at anyone but if you've a health condition then the run leaders on this course will be particularly pleased to see you and well placed to offer you support.  This group, as with all running groups, aims to combine the mental and physical benefits that come with being more active. Absolute beginners are more than welcome – you might not have done any exercise for years, if at all, but the course starts off with gentle walking and so is manageable for most people.
Sessions will be held on Mondays at 10.30am, starting on 14th May. Please call 01373 468368 or email mendip.healthconnections@nhs.net for more information or to take part.
Last updated on 5 June 2018