The Frome Business Breakfasts are monthly sessions that present bite sized business talks for the local community. Each month, the sessions feature a local speaker with expertise in the chosen topic. Participants are invited to ask their own questions, join the discussion, or simply sit back and absorb the information.
Backed by Frome Town Council, Frome & District Chamber of Commerce, and Mairi Connelly of AM Personnel, the Frome Business Breakfasts provide useful information and the sharing of knowledge between local organisations.
The sessions costs £10 per person with the breakfast included in the price. Dietary options are available upon request, prior to the session.
Pre-booking is essential.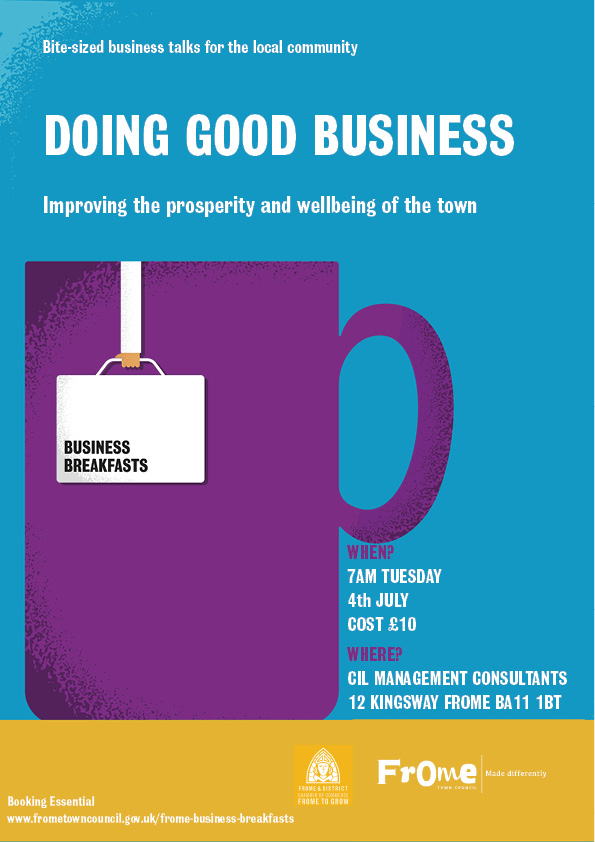 Doing Good Business – Improving the prosperity and wellbeing of the town
4th July, 7:00am – 8:30am
CIL Management Consultants
12 Kingsway Frome BA11 1BT
Frome Town Council has been trialling a Good Business Framework with local businesses (including Nationwide, CIS Management Consultants, Dennis Maps, Frome Wholefoods, and Greener Lettings).
At the July business breakfast, we will explore what makes for good business and share with you the Town Council's approach, the Good Business Framework (a discussion with a local business followed up with a report), and what has been achieved so far. We'll provide you with a copy of the framework at the breakfast and there will be an opportunity to try it out after the coffee!
Beginning at 7.00 a.m., the Business Breakfast will be held at the offices of CIL Management Consultants.
Registration is essential via the following link, buy tickets. Please contact Charlie Orr at orrc@frometowncouncil.gov.uk for further information.
Keep an eye out on our social channels where we will update ticket information for each event: Twitter @FromeCouncil and Facebook