The Frome Business Breakfasts are monthly sessions that present bite sized business talks for the local community. Each month, the sessions feature a local speaker with expertise in the chosen topic. Participants are invited to ask their own questions, join the discussion, or simply sit back and absorb the information.
Backed by Frome Town Council, Frome & District Chamber of Commerce, and Mairi Connelly of AM Personnel, the Frome Business Breakfasts provide useful information and the sharing of knowledge between local organisations.
The sessions costs £10 per person with the breakfast included in the price. Dietary options are available upon request, prior to the session.
Pre-booking is essential.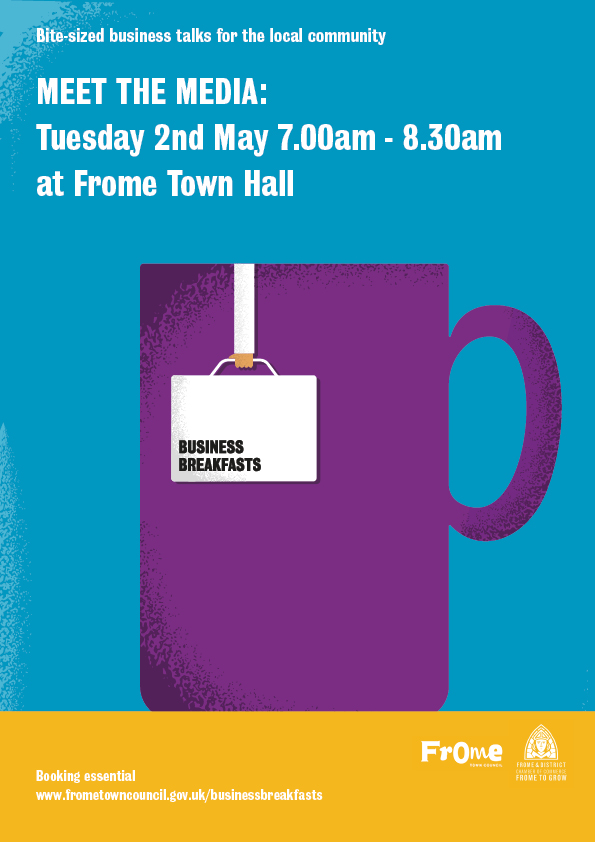 Business Space – Meet the Media
2nd May, 7:00am – 8:30am
Frome Town Hall
Christchurch St. West, Frome, BA11 1EB
In May, the Frome Business Breakfast will offer the opportunity for businesses and organisations to meet with members of the local press. Representatives of the Frome Standard and Frome FM will be on hand to offer advice on how to put together press releases and pass on useful (and enticing) information to the media. This will act as a great chance for local organisations to learn about how to get their stories out into the world.
Beginning at 7.00 a.m., the Business Breakfast will be held at the newly refurbished Frome Town Hall.
Registration is essential via the following link, buy tickets. Please contact Charlie Orr at orrc@frometowncouncil.gov.uk for further information.
Keep an eye out on our social channels where we will update ticket information for each event: Twitter @FromeCouncil and Facebook 
Previous Breakfasts
Business Space: Meeting the demand in Frome – April
Shaker & May, L11 Marshall Way, Commerce Park, Frome, BA11 2FB
In April, the Frome Business Breakfast paid a visit to Shaker & May, a local kitchen designer in Commerce Park where we discussed how we can meet the growing demand for business space in Frome.
At the breakfast, Jeremy Smalley, a local resident who runs a regeneration and planning consultancy business, summarised the results of a survey, commissioned by Frome Town Council, that dealt with this important topic. He pointed out that, out of the 19,000 people who have jobs, only 8000 of those work in Frome. He also drew attention to the 1000 businesses in Frome and that if they are able to grow and remain in the town then it would provide increased employment within the local area.
Check out the survey results here:
Supporting Frome's Micro-Enterprises – March
The Cheese & Grain, Market Yard, Justice Lane, Frome, BA11 1BE
Jean Boulton & Peter Wheelhouse led this session with a look at how the micro-enterprise sector has gained strength in Frome and was followed by a workshop on how the development of local micro-enterprises can be supported in the future.
Check out the Power Point presentation from the event here:
Check out the video of the Frome Business Breakfast's visit to Dennis Maps below: